News

Bianka's CV

Brenda's CV

Exhibitions


successes

Our Kennel

A-puppies

B-puppies

C-puppies

Berenika

Archiebald

Standard of


Hovawart

Photogallery
Bianka
Berenika
Brenda
Archiebald
A-vrh
B-vrh

Contact
C - p u p p i e s


Father: Artex z Lašské brány - výběrová chovnost
2x CAC, res. CAC, res. CACIB,  Champ ČR Zk:  ZOP, ZPU, ZZO, ZM, IPO-


They met: 19.12.2014
Birth: 20.2.2015

Father is a beautiful black dog, succesful at dogs´shows and also working dog, which passed a lot of exams, enthusiastic to training and work, lively, but still he is a friendly, non-conflict and easy-going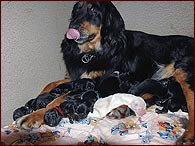 dog.

Mother was always excellent at dogs´show. She is friendly, well-controled bitch, loving her family very much, playful and cuddly.

The puppies supposed to be of well-ballanced character and great appearance.

They are growing in a family with children and other animals. They will be well-socialized and of course vaccinated. Purchasing will be able about 13. 4. 2015.