News

Bianka's CV

Brenda's CV

Exhibitions


successes

Our Kennel

A-puppies

B-puppies

C-puppies

Berenika

Archiebald

Standard of


Hovawart

Photogallery
Bianka
Berenika
Brenda
Archiebald
A-vrh
B-vrh

Contact
O u r k e n n e l s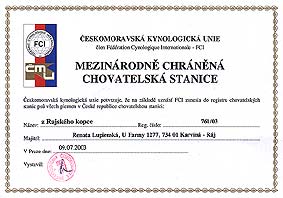 Our kennels came into being with effect from 9. 7. 2003. We thought about the name for our kennels quite a long time and at last we wrote 6 of them into the application form. The first name "z Rajského kopce" was finally selected. It comes from the place where we live. This part of Karviná is called Eden (Ráj) and our house including Bianka´s kennel is on the hill (kopec).
So far we have had only Bianka Adamův hrádek, but we are thinking of another dog, maybe we will keep a puppy from B-litter.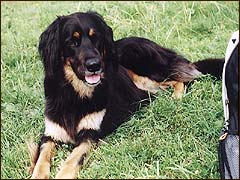 When we bought Bianka, we weren´t ambitious for her, we didn´t think about going to dog´s show etc. But after our first experience at the International Dog´s show in Brno, where Bianka was "Very promising", we realized, that it would be a pity to have such a nice and clever dog only for the garden. So we decided to show her. Because the hovawart is a very intelligent dog, she learned very quickly and she enjoyed going to the dog´s training centre, and soon she passed exam BH and ZOP. Then she had puppies, so she took a break from training for examinations, but still she trains obedience and steps (trace).